Jobenomics, the book, deals with the economics of business, job, wealth and tax revenue creation. Jobenomics, the national grassroots movement, has a goal of creating 20 million new US private sector jobs within the next decade.  The Jobenomics movement has grown significantly .   Over two million people have been reached via national and social media, lectures, as well as word-of-mouth.  While Jobenomics' Plan for America addresses all businesses, the Jobenomics National Grassroots Movement focuses on highly scalable business creation efforts for startups and emerging small and self-employed businesses.
The Jobenomics movement has seven major business creation initiatives.  Two initiatives involve emerging technologies related to the Energy Technology Revolution and Network Technology Revolution.  Four initiatives involve demographics with the highest growth potential and the highest need: Women Owned Businesses, Generation-Y Owned Businesses, Minority Owned Businesses and Veteran Owned Businesses.  The final initiative is a new corporation (http://ecyclingusa.com/) that Jobenomics established to help cities monetize high value waste streams to produce revenue streams (typically $30 million/year) for local business generation efforts.  Detailed reports on these initiatives and economic trends will be placed regularly in "Recent Posts" and "Categories" sections on the right side of this screen.
After sixty years of growth in America, jobs creation abruptly stopped. The American economic engine lost almost a million private sector jobs in the last decade (2000s), compared to gains of 10 to 20 million new jobs in previous decades (1940s through 1990s). To get our economic engine running again, America needs to create a minimum of 20 million new private sector jobs by 2020.   So how are we doing in terms of employment and unemployment in the USA?   Americans are not producing the number of jobs needed as compared to the number of people leaving the US labor force (shown below).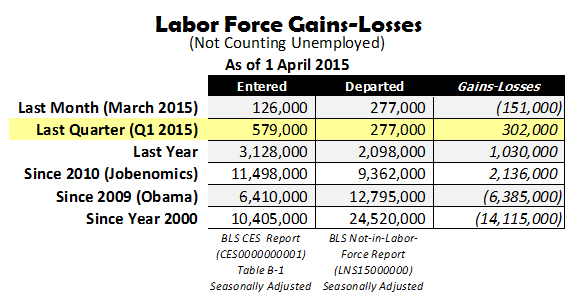 According to the US Bureau of Labor Statistics, since year 2000, 10,405,000 people entered the US labor force as opposed to 24,520,000 who departed as indicated by the BLS category entitled "Not in the Labor Force", which is defined as able-bodied people that can work but chose not to work. These 93 million citizens, do not include 17 million people who are unemployed (U6 Rate).  These numbers indicate that while improving slightly, the US economy is not sustainable due to massive exodus of people from the labor force resulting in 30-year low labor participation rates and employment-to-population ratios.
Detailed reports entitled, Jobenomics Employment Scoreboard and Jobenomics Unemployment Scoreboard, are updated monthly and are located in the "Recent Posts" section.   I hope you visit often and look forward to your comments.
Sincerely,
Chuck Vollmer, Jobenomics Founder & Author
Vollmer-Chuck Jobenomics BIO – September 2014