As defined by the Bureau of Labor Statistics, the US goods-producing sector includes manufacturing, construction and mining/logging industries.  The Manufacturing/Construction Jobs Forecast looked at manufacturing and construction industries and predicted that these industries would not create a significant amount of new jobs in the near future.   This article looks at the mining sector, and concludes that this sector has a significant jobs creation potential.  A million new mining industry jobs could be created this decade with government agency, environmentalist and investment community collaboration.
Mining is defined as oil and gas extraction (oil & gas), coal mining (coal), metallic and non-metallic minerals mining and quarrying (minerals), and support activities for mining (exploration & support).  Industries in the exploration & support category provide exploration (except geophysical surveying and mapping) and support services, on a contract or fee basis, for the mining and quarrying of minerals and for the extraction of oil and gas. Exploration includes traditional prospecting methods, such as taking core samples and making geological observations at prospective sites.
As of 1 Jan 2012, at total of 776,000 American were employed in the mining sector, of which, 48% (374,200) were employed in exploration & support, 24% (186,800) in oil & gas, 17% (129,300) in minerals and 11% (85,700) in coal.
Due to the highly-advertised debates between environmentalists and mining industry advocates, America's focus has been largely on oil, gas and coal.   Energy independence, offshore and domestic drilling, oil spills (BP and Exxon Valdez), Keystone pipeline, oil shale and oil sands, natural gas reserves, clean coal, hydraulic fracking, and environmental protection are dominant issues.  The Jobenomics position on these issues is that America's oil, gas and coal reserves are massive and can be exploited in an environmentally-friendly manner.
The debate between the two big E's, economy and environment, needs to be more collaborative as opposed to adversarial.   Economic and security implications of energy independence and jobs creation are rising in importance.   Environmental protection is also a critical issue, but environmentalists should not have near-veto power over exploitation of critical national resources and related business and job creation.
Jobenomics believes that exploitation of the mining sector could produce a million new, high-paying, private sector jobs this decade in an environmentally-friendly manner without a significant impact on the environment.  There is a growing argument from the political right that the Environmental Protection Agency be eliminated.  Jobenomics believes that the EPA needs to have a place at the table for national level initiatives.  However, the EPA needs to be reengineered to be more business-friendly in order to enable businesses to be more environmentally-friendly.
The Canada-to-Texas Keystone oil pipeline serves as an excellent example for a large scale national initiative.  According to the US Chamber of Commerce, the Canada-to-Texas Keystone oil pipeline could create could create as many as 250,000 permanent US jobs. More realistic assessments put the number of direct pipeline jobs at 20,000.    From a Jobenomics perspective, adding one more pipeline to our national pipeline grid (shown) should be a no-brainer.  From an environmentalist perspective, the Keystone pipeline could be a collaborative effort to implement the next-generation, environmentally-friendly pipeline.
In addition to major national initiatives, Jobenomics believes there is vast potential in growing small and emerging mining businesses that could generate millions of new jobs.  In this regard, Jobenomics is working with small and emerging businesses involved in: copper, uranium and gold mining, geophysical and geospatial exploration, hydraulic fracking, aggregates quarrying, natural gas to diesel fuel conversion, CO2 sequestration, synthetic fuels, as well as a number of mining technology and service companies.
The Jobenomics Mining Initiative recently toured the Rosemont Copper mine near Tucson, Arizona.  Rosemont is advertised as the most modern and environmentally-friendly mine in the world.  Environmentally, land, air and water protection is a top priority.  Rosemont's environmental engineering includes: a low footprint, low water usage and recycling, air quality protection, solar and renewable energy, permanent land conservation and land reclamation starting day one.  Economically, the independent Arizona State University Report 2009 states that Rosemont Copper will stimulate a total of $15 billion in new economic output to the region over the life of the mine, including average of 2,100 jobs annually with an average income of $59,000. In addition, copper is an essential mineral in creating a green economy from wind power to hybrid vehicles to modern electrical grids and homes.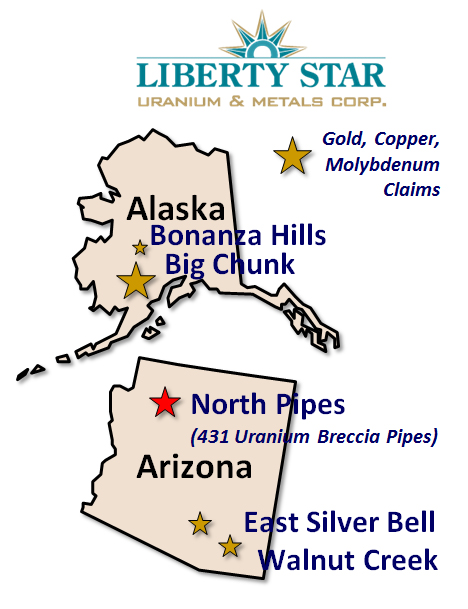 Liberty Star Uranium and Metals Corporation also provides an example how a small exploration and mining company could rapidly produce thousands of new jobs that would exploit US of gold, copper, molybdenum and uranium reserves potentially worth several trillion dollars.
Liberty Star is a small, publically-traded (LBSR: OTCBB, LBVN: Frankfurt), exploration and mining company with a 10 year history.  Liberty Star Holds hundreds of square miles of copper, gold and uranium claims in Arizona and Alaska.  In addition to its 431 uranium claims in Arizona, Liberty Star holds a very large block of claims in Alaska called Big Chunk, which portends to hold the largest copper/gold reserves in the world.
Most mining companies struggles with environmentalist organizations that oppose any new mining projects as well as government agencies that are unduly influenced by environmentalist lobbying.  However, the power of environmentalist lobbying may be in decline.   State and local governments are beginning to turn to minerals-oriented companies to help solve problems associated with rising unemployment and declining tax revenues.  Environmental protection concerns are often less of a concern for minerals companies as opposed to oil, gas and coal companies that tend to be associated with more controversial issues like emissions pollution that contributes to climate change.  In addition, minerals-oriented companies, like Rosemont and Liberty Star, have made significant advancements in environmentally-friendly mining technologies and processes.
The lack of domestic financing is the second major issue facing mining companies.  Little, if any, of the $12T federal government stimulus and bailout funds reached the mining sector.  Financial institutions, that greatly benefitted from government stimulus funds, prefer large corporations listed on the major stock exchanges as opposed to small and emerging companies listed on the OTCBB (over the counter bulletin board) exchange.   High-net worth investors are scarce due to economic uncertainty and the relative unattractiveness of an over-regulated industry.
Despite the lack of domestic funding, mining companies have found significant interest with foreign investors.  Surprisingly, investors in Asia and the oil-rich Arab Gulf Region see immense financial potential in US minerals, especially copper and gold.  To help exploit this interest, Liberty Star is working with US Citizenship and Immigration Services, a division of the Department of Homeland Security, to establish EB-5 Foreign Investor Regional Centers in Arizona and Alaska to finance scout drilling of target claims as well as conduct engineering, economic feasibility, environmental and socio-economic studies.
In conclusion, mining industries in the US good-producing sector have the potential to create a million new jobs by 2020.  These jobs could be created by a combination of large top-down national initiatives as well as from bottoms-up small and emerging business efforts.  In order to facilitate a major jobs creation mining initiative, government environmental protection agencies need to be more business-friendly in order to enable businesses to be more environmentally-friendly and economically healthy.